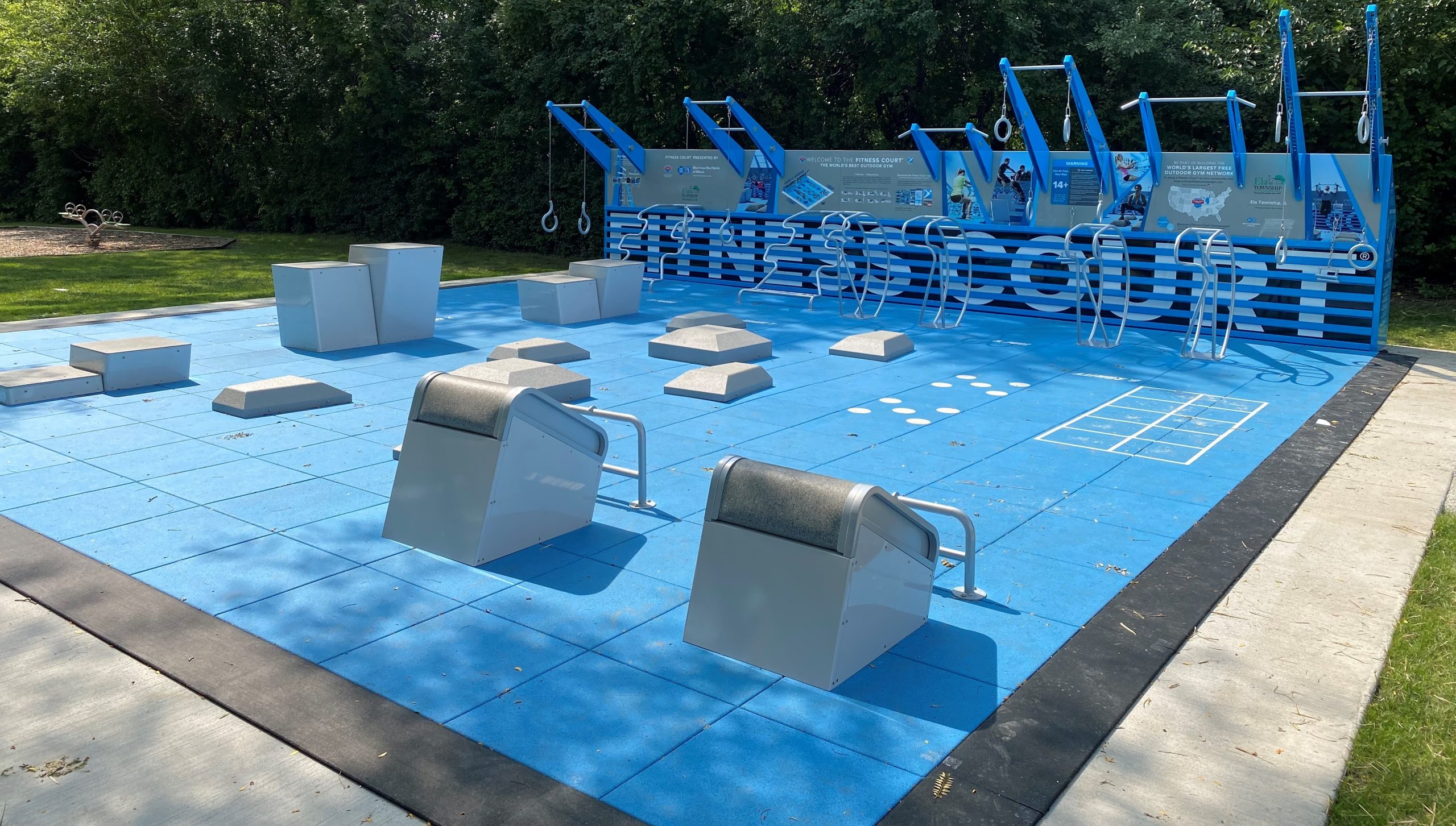 State-of-the-Art Outdoor Fitness Court® in Ela Township
SITE PARTNER MEDIA CONTACT:
Gloria Palmblad | supervisorpalmblad@elatownship.org
847-438-7823
NFC MEDIA CONTACT:
Amy E. Shogren | ashogren@nfchq.com
813-505-7482
Lake Zurich, Ill.— Blue Cross and Blue Shield of Illinois, Ela Township and National Fitness Campaign (NFC) have partnered to bring an outdoor Fitness Court® to Ela Township. The Fitness Court is located at Knox Park (1155 E. Route 22, Lake Zurich, Illinois) and is currently accessible to all. A ribbon cutting ceremony will take place Spring 2023.
This Fitness Court was developed by Blue Cross and Blue Shield of Illinois, Ela Township and NFC to expand free access to high quality workouts and create equitable access to exercise for communities around the state. The Fitness Court is the world's best outdoor gym that lets people use their own body weight to get a complete workout using seven exercise stations.
Created with people aged 14 and over – and with all abilities – in mind, the workouts are adaptable for all fitness levels, allowing participants to move at their own pace. Users also may download the free Fitness Court App which acts as a coach-in-your-pocket and enhances the outdoor gym into a digitally supported wellness experience.
"Regular exercise is essential to maintaining personal health and reducing health care costs," said Katie Cangemi, Senior Program Officer, Community Investment, Blue Cross and Blue Shield of Illinois. "Blue Cross is committed to promoting better health in our communities, and this Fitness Court makes it easy for anyone at any fitness level to get a good outdoor workout, connect with neighbors, and stay healthy."
Ela Township Supervisor, Gloria Palmblad said "we are excited to bring this type of fitness equipment to our park.  This provides a chance to improve one's physical fitness for those who are unable to afford joining a club or for those that might prefer working outside when possible.  With the opportunity to complete a workout in seven minutes – it's hard to find an excuse not to exercise!"
"National Fitness Campaign is proud to welcome Ela Township to the campaign as a leader in health and wellness for Illinois and across America," said Mitch Menaged, Founder of National Fitness Campaign.
Residents are invited to try out the Fitness Court at Knox Park and should watch for more information regarding the Spring 2023 ribbon cutting ceremony. For more information contact Ela Township at 847-438-7823. For more information on Blue Cross and Blue Shield of Illinois' support of NFC, please visit nationalfitnesscampaign.com/illinois.
About Blue Cross and Blue Shield of Illinois
Blue Cross and Blue Shield of Illinois (BCBSIL) is committed to expanding access to quality, cost-effective health care to as many people as possible in Illinois. BCBSIL is dedicated to innovation and exploring, nurturing and activating future possibilities to make the health care system work better for our members and our communities. BCBSIL is a division of Health Care Service Corporation, a Mutual Legal Reserve Company and an Independent Licensee of the Blue Cross and Blue Shield Association.
About Ela Township
Ela Township was established in 1850 as a local government agency within the state of Illinois. Ela Township serves residents in the southwest corner of Lake County. The Township is 36 square miles in area and serves 44,026 residents within its border per the 2016 U.S. Census. Ela Township serves residents that live within the following portions of communities located in its borders: Barrington, Deer Park, Hawthorn Woods, Kildeer, Lake Zurich, Long Grove, and North Barrington.
Ela Township provides residents with a wide array of services related to property tax assessments, general/emergency assistance, and highway services. In addition, the Township provides mental health services and targeted programming to assist both youth and senior populations within its borders. Ela Township maintains four parks and two cemeteries. The Township also manages a subsidized disabled/senior transportation program to assist with essential and personal travel needed for these individuals. 
About NFC
Founded in San Francisco in 1979, National Fitness Campaign (NFC) is a wellness consulting firm that provides programs and services to cities, schools and sponsors with the mission to build healthy communities. NFC delivers an integrated wellness initiative, centered on the world's best outdoor gym: The Fitness Court®. The Campaign is planning its 500th Healthy Community, uniting the country's largest public-private partnership in support of wellness with the goal of building a Fitness Court within a 10-minute bike ride of every American. Follow us on social media @NatFitCampaign and #Fitnesscourt.