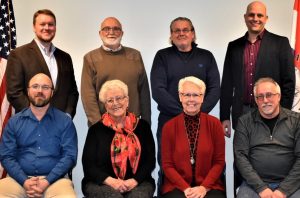 On Thursday, November 12, 2020, at the monthly Ela Township Board Meeting, the Ela Township Board voted to approve the fiscal year 2021-2022 property tax levy to remain flat.  This means that Ela Township will levy for a 0% property tax increase over the prior 2019-2020 fiscal year.  Ela Township, like many other townships throughout Illinois only account for about 2% of the total property taxes collected to provide services for their residents.  In Ela Township, property taxes levied support its residents with many services ranging from social services, youth programs, senior programs, parks, cemeteries, property tax assistance, and various highway related services that serve many communities within the Township's borders.
During the Township's Committee-of-the-Whole Meeting in October, the Ela Township Board discussed the importance of offering property tax relief amid the ongoing coronavirus pandemic.  This pandemic has had widespread impacts on the local economy and residents in Ela Township.  The Township Supervisor, Gloria Palmblad, and Township Manager, William Stefaniuk, reviewed the state of the Township's fiscal situation to enter the pandemic with a healthy fund balance through strategic planning measures taken over the past few years.
The Ela Township Board is planning to sufficiently fund programs and projects anticipated for the next fiscal year without increasing the property tax levy, which is the culmination of the fiscal stewardship that has been championed over recent years.  The flat tax measure will also extend to the property tax levy for the Township's Road District, which will similarly not increase taxes over the prior year's levy.  For Township residents, this will result in tens of thousands of dollars that will not be levied for the upcoming fiscal year beginning in April 2021.