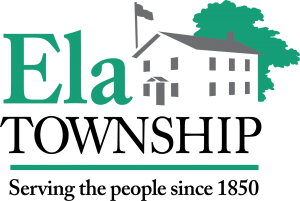 On November 3, 2020, voters made a historic decision to approve the referendum to abolish the Road District in Ela Township.  The Road District presently serves up to 23.5 miles of roads in unincorporated Ela Township and another 80+ miles of roads through intergovernmental agreements with other municipalities via its Highway Department.  The Road District provides public works related services for four municipalities served within Ela Township borders. Intergovernmental agreements with other local government agencies are planned to continue going forward.  Ela Township taxpayers can expect to receive the same services currently provided under the Road District upon consolidation of these two government agencies into one unified Ela Township government. 
In short, the approval of this referendum means that the Road District in Ela Township will be eliminated as a unit of government and taxing body in Illinois with all of its rights, powers, duties, assets, property, liabilities, obligations, and responsibilities being assumed by Ela Township to perform these functions.  Ela Township officials plan to continue operations within the Highway Department that will maintain an efficient and cost-effective level of service for Township residents and examine opportunities to reduce taxes and consolidate services.  
Another primary change established by this approved referendum includes eliminating the elected Highway Commissioner position.  This means that all Ela Township Highway Department matters will be subject to a five member Township Board for oversight and accountability at the end of the current elected term of office in May 2021.  As a result, this measure expands an effective system of checks and balances in Township government. 
Ela Township officials are planning to hire a Highway Superintendent to oversee the daily management responsibilities of the Highway Department, who will report directly to the Township Manager, William Stefaniuk.  This is a similar reporting structure that many municipal and county government agencies currently follow with their Public Works departments.  The goal of this change to the reporting structure is to establish continuity of leadership and service delivery within Highway Department operations. Over the next six months, the Township Manager will oversee the consolidation of both local government agencies in collaboration with the current Township Board and Highway Commissioner, Andrew Forster, to ensure a smooth transition occurs for Highway Department operations serving Ela Township residents.