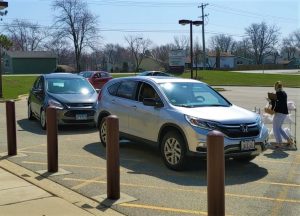 In a continued effort to support the needs of older adults living within Ela Township, and in compliance with current social distancing guidelines, the Ela 55+ staff has implemented an affordable curbside meal pickup option for Ela 55+ members who would usually enjoy meals at the Ela Eatery at the Ela Township Community Center.
The community center chef, Lynn Garrett, has developed a variety of meals that can be enjoyed by members for $5 per person. Meals include a main entrée, side dishes and dessert. All orders must be received by the Friday before the week of pickup. To place an order, call (847) 438-9160.
Curbside service is available at 11:30 a.m. Monday through Thursday in the front parking lot of the Ela Township Community Center, 380 Surryse Road, Lake Zurich.
Ela 55+ members can view the monthly menu selections on the Ela Township 55+ Facebook page or on their website, elatownship.org/seniors. All meals are handed out cold, with reheating instructions listed on the container. Have exact cash or a check, made payable to Ela Township 55+, ready in an envelope when arriving to pick up an order.
Anyone interested in becoming a member of Ela 55+ should contact the Ela Township Community Center. Membership is free to all Ela Township residents 55 and older.
For those looking for some in-home entertainment, the Ela 55+ staff has also developed a YouTube channel. Search for "Ela Township Community Center" on YouTube and you will find a range of free and entertaining videos created to keep viewers moving while indoors.