About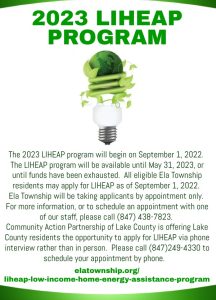 The Illinois Low Income Home Energy Assistance Program (LIHEAP) is designed to assist eligible low income households pay for winter energy services. LIHEAP will provide a one-time benefit to eligible households to be used toward their electric and gas bills. The amount of payment is determined by income, household size, fuel type, and geographic location.  The Ela Township Administration department can assist Township residents who qualify for the program with the application process.
LIHEAP is funded by the U.S. Department of Health and Human Services and the state of Illinois. The program is administered by the Illinois Department of Commerce and Community Affairs (DCEO). Energy Assistance is provided by local community action agencies or not-for-profit agencies throughout the state. To be eligible for this benefit program, you must be a resident of Illinois and you must need financial assistance with home energy costs. A person who participates or has family members who participate in certain other benefit programs, such as SNAP, SSI, TANF, automatically meets the eligibility requirement.
The 2023 LIHEAP program year will begin on September 1, 2022 and will run through May 31, 2023 or until funds have been exhausted. Ela Township will register Township residents for the LIHEAP program starting September 1, 2022 by appointment only.  Please call (847)438-7823 to schedule an appointment with one of our staff.  Due to the COVID-19 pandemic, the Federal Poverty Income Guidelines have been raised.
To prevent the spread of Covid-19 all Community Action Partnership of Lake County Offices and Outreach sites will remain closed to person-to-person service, however, they are now offering to take applications via telephone, by appointment only, and documents can be submitted using internet, US mail and at drop boxes throughout Lake County.  For more information on how to apply for assistance by phone please call the Community Action Partnership at (847) 249-4330.