Ela Township Health & Wellness offers several support groups and wellness programs at no cost to Township residents.  Please contact our office for registration (847) 540-8380.
Grief Group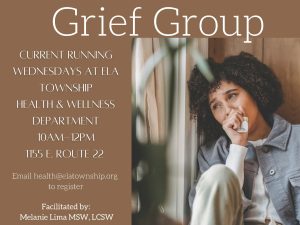 The purpose of the group is help grievers complete their relationship to the pain caused by the emotional loss. Death and divorce are the obvious losses but the group is not limited to those losses. There are more then 40 life events that can produce grief. 
Grief Group is a 8 week group.  The group is structured with discussion, reading and homework.   
Reach out to Melanie Lima MSW, LCSW at MelanieL@elatownship.org or call (847) 540-8380 to join.
Care for the Caregiver Support Group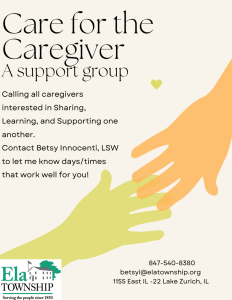 Are you a caregiver looking for a place to receive care instead of giving care?  A great place to start is by joining Ela Township's Health and Wellness Caregiver Support Group.  The benefits of joining are endless and include additional resources, emotional support, gaining a sense of empowerment, improve coping skills, and reducing stress.  We look forward to you joining our group.  Please feel free to share this information with residents within Ela Township.  If you have any questions, or interested in joining, please contact Betsy Innocenti, MA, LSW at betsyi@elatownship.org or (847) 540-8380.
Parenting Support Group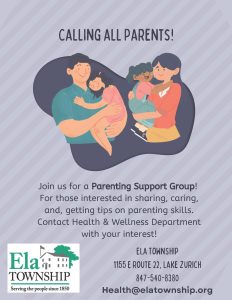 Are you a parent in need of support? Join Ela Township's Health & Wellness Parenting Support Group to connect with other new and exciting parents. The group discusses parenting challenges and unique stressors that effect today's parents. The group provides support, education, advice, and a safe place for parents to vent without criticism.  For those interested in joining, email health@elatownship.org or call (847) 540-8380.
Charity Knit Crochet & Quilters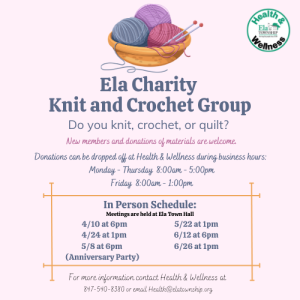 Our community of crafters has been meeting for 10 years. In that time, we've lovingly made well over 12,000 handmade blankets, hats, scarves, baby items, and much more to donate to Kids' Korner at the Lake County Court House along with area churches, homeless and domestic violence shelters, veterans, schools, hospitals, food pantries, and other nonprofit organizations and causes.  Newcomers are always welcome. If you don't know how to knit or crochet but would like to learn, we have plenty of friendly volunteers who can teach you. We take donations!  If you have extra yarn please contact our office, we will gladly take if off your hands and put it to good use on one of our charity projects!
DONATIONS GREATLY APPRECIATED!
Please check back, there are more groups to come!  We would love your feedback, if you have any suggestions of programs and groups you would like to see offered by the Health & Wellness department, please email saram@elatownship.org.  Thank you.