Mailbox Information
Replacement of mailbox and/or post will only occur by Ela Highway Department if it is hit by the plow, not by flying snow. Your mailbox and post must be able to withstand flying snow. If you have an expensive mailbox, you may want to put up a temporary one for the winter because replacement mailboxes are standard issue with wolmanized 4 x 4 posts.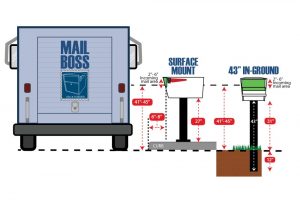 Any damage done to residential mailboxes/lawn due to snow plowing will be handled by the Ela Highway Department in the spring, weather permitting.
Mailbox Installation Guidelines
The following postal service guidelines apply to the installation of a rural style mailbox on a post in front of your home:
The bottom of the mailbox should be 42 inches above the ground. The front of the mailbox should be 12 inches in from the back of the curb or edge of the road or shoulder.
Post should be 4×4 inch wood post or a 2-inch, thick wall, steel pipe.
Mailboxes closer than 8 inches or protruding in the street are not acceptable.
If installed properly, and the mailbox is damaged by township equipment when snow plowing, we will replace it with a "standard" mailbox, 4×4 wood post and support. If it does not conform to the above guidelines, the township will not be held responsible.