Recycling Program
The oil and paint recycling program has been suspended because the State of Illinois has stopped funding the program. Ela Highway Department is looking into other programs and additional funding but has not been able to contract any to date.
You may contact SWALCO (Solid Waste Agency of Lake County) with any questions regarding recycling.
The Illinois Electronic Products Recycling and Reuse Act landfill ban went into effect Jan. 1, 2012. The following electronic items are no longer be accepted in either your regular trash or recycling container: TVs, monitors, printers, computers (including tablet computers), keyboards, mice, scanners, fax machines, VCRs, DVD players and recorders, portable digital music players, video game systems, small servers, satellite receivers, cable receivers and digital converter boxes.
Residents should direct their broken or unwanted household electronic items to a residential electronics recycling collection event hosted by SWALCO.  For more information regarding residential electronics recycling opportunities and a list of items you can drop-off to be recycled, visit the SWALCO website at www.swalco.org or call (847) 336-9340.  Please consider donating good working equipment to a charitable organization.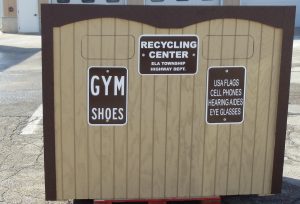 The Highway Department has built three recycle centers that are in the Township at Knigge Park soccer field, Knox Park football field, and at the Ela Historical Society & Museum. These recycle centers are used for old shoes, U.S. flags, eyeglasses, hearing aids and old cell phones. The Highway Department will collect them and distribute them to the appropriate end user.
In addition, the Highway Department has placed a Swalco clothing and textile recycling center on the property. Please consider dropping off any unwanted clothing, textiles, or shoes in our recycling bin located at 23605 Echo Lake Road, Lake Zurich.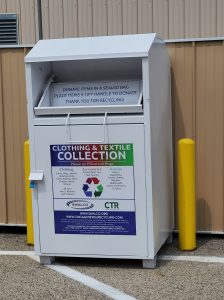 Swalco has established a community-wide program where clothing and textiles can be collected for recycling. Ela Township Highway Department will be another supporter of SWALCO's sponsored clothing and textile collection bin drop-off locations. The program will accept new, gently used, used, or unwanted/worn, women's, men's and children's clothing. All fabrics will be accepted. Even clothes or textiles with stains or holes will be accepted. The great news too, is that almost 95% of the materials collected will be repurposed or recycled. For more information about bin locations please contact the Ela Township Highway Department.